Screenshots and videos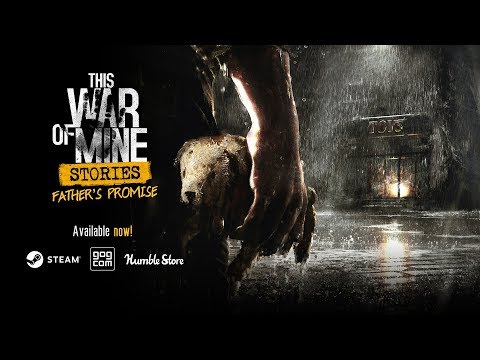 Reviews
Rate this product
This War of Mine: Stories - Season Pass
Add an opinion about the product: This War of Mine: Stories - Season Pass (DLC)
Thank you for adding review
Date

(newest to oldest)

Date

(oldest to newest)

Rating

(highest to lowest)

Rating

(lowest to highest)
Description
NOTICE
This product requires the base game This War of Mine on Steam in order to play.
SEASON PASS
Gain access to the full set of three new stories set in the world of 'This War of Mine', first of them – 'Father's Promise' - available right away and two more coming later in 2018. This season Pass allows you to save money on content. All the stories can be downloaded in-game when available and require the base This War of Mine game on Steam to be played.
FATHER'S PROMISE DLC
Become Adam - a father trying to save his daughter from the horrors of war and leave the besieged city. Follow their steps and discover a story of love, hate and sacrifice - the emotions we all share in the darkest of days.

DLC offers a brand new, distinctive experience with additional game mechanics and several hours of thought-provoking gameplay. It is also the opening of the first season of This War of Mine: Stories. The next episodes will follow in 2018.


The Father's Promise DLC introduces:
a brand new storyline based on an audio-drama written by the famous Polish author, Łukasz Orbitowski
4 completely new locations
5 reconstructed and remastered locations
set of new game mechanics: dialogue and clue searching systems
Overview
Genre:
Works on:
Windows, Mac OS X, SteamOS + Linux
Languages:
English
Text only:
French, German, Polish, Russian, Italian, Portuguese-Brazil, Spanish, Japanese, Korean, Turkish, Simplified Chinese
Features:
Released:
November 14, 2017
Company:
Rating:
Not rated
SYSTEM REQUIREMENTS
Operating system:
Windows XP SP3 (32 bit) / Vista
Processor:
Intel(R) Core(TM)2 Duo 2.4, AMD Athlon(TM) X2 2.8 Ghz
Graphics cards:
Geforce 9600 GS, Radeon HD4000, Shader Model 3.0, 512 MB
Additional information:
Steam DRM