Screenshots and videos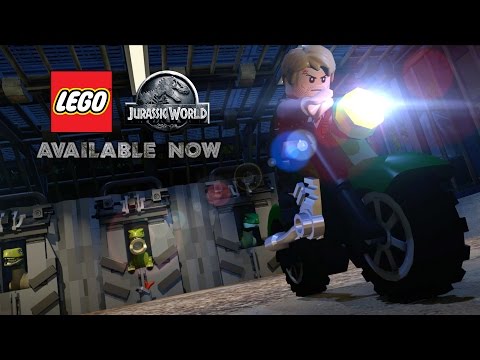 Reviews
The humor is charming as usual and the presentation is more cinematic than in recent games of the series.
PC Games
You can make dinosaurs fight other dinosaurs. And really that's all that matters.
PCWorld
Rate this product
LEGO® Jurassic World
Add an opinion about the product: LEGO® Jurassic World
Thank you for adding review
Date

(newest to oldest)

Date

(oldest to newest)

Rating

(highest to lowest)

Rating

(lowest to highest)
Description
Following the epic storylines of Jurassic Park, The Lost World: Jurassic Park and Jurassic Park III, as well as the highly anticipated Jurassic World, LEGO Jurassic World™ is the first videogame where players will be able to relive and experience all four Jurassic films.


Reimagined in LEGO form and told in TT Games' signature classic LEGO humor, the thrilling adventure recreates unforgettable scenes and action sequences from the films, allowing fans to play through key moments and giving them the opportunity to fully explore the expansive grounds of Isla Nublar and Isla Sorna.
KEY FEATURES
Relive key moments from all four Jurassic films: An adventure 65 million years in the making - now in classic LEGO brick fun!
Wreak havoc as LEGO dinosaurs: Choose from 20 dinosaurs, including the friendly Triceratops, deadly Raptor, vicious Compy and even the mighty T. rex.
Customize your own dinosaur collection: Collect LEGO amber and experiment with DNA to create completely original dinosaurs, like the Dilophosaurus Rex.
Populate and explore Isla Nublar and Isla Sorna: Put your unique dinosaur creations in to paddocks as you complete special Free Play missions.
Play with family and friends with easy access drop-in, drop-out gameplay option.
Overview
Genre:
Works on:
Windows
Languages:
English, French, German, Italian, Portuguese-Brazil, Spanish
Text only:
Danish, Dutch, Polish, Russian
Features:
Released:
June 11, 2015
Size:
10 GB
Company:
TT Games Ltd
Warner Bros. Interactive Entertainment
Rating:
PEGI: 7 (Violence, Fear); ESRB: E (Cartoon Violence, Crude Humor); USK: 6
SYSTEM REQUIREMENTS
Operating system:
Windows®XP SP3, Windows Vista/7/8 with latest service packs and updates installed
Processor:
Intel Core 2 Duo or equivalent AMD dual core CPU
Graphics cards:
NVIDIA GeForce 7600GS or ATI Radeon 1950, 256 Mb RAM
Additional information:
Steam DRM