Screenshots and videos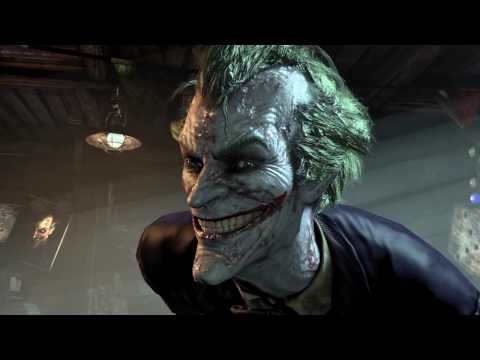 Reviews
Batman: Arkham City's irresistible world, joyous movement, rewarding combat, and varied side quests make it an exceptional adventure game.
GameSpot
I've beaten this thing twice and still want to call in sick and chase Riddler Trophies.
IGN
Bat-brawling shows wear, and Batman's a charisma void, but the freedom and depth of the open world are mesmerising.
PC Gamer
Rate this product
Batman: Arkham City
Add an opinion about the product: Batman: Arkham City - Game of the Year Edition
Thank you for adding review
Date

(newest to oldest)

Date

(oldest to newest)

Rating

(highest to lowest)

Rating

(lowest to highest)
Description
Get Batman: Arkham City and all DLC for one low price with the release of the GOTY Edition!


Batman: Arkham City builds upon the intense, atmospheric foundation of Batman: Arkham Asylum, sending players flying through the expansive Arkham City - five times larger than the game world in Batman: Arkham Asylum - the new maximum security "home" for all of Gotham City's thugs, gangsters and insane criminal masterminds. Featuring an incredible Rogues Gallery of Gotham City's most dangerous criminals including Catwoman, The Joker, The Riddler, Two-Face, Harley Quinn, The Penguin, Mr. Freeze and many others, the game allows players to genuinely experience what it feels like to be The Dark Knight delivering justice on the streets of Gotham City.
Batman: Arkham City - Game of the Year Edition includes the following DLC:
Catwoman Pack
Nightwing Bundle Pack
Robin Bundle Pack
Harley Quinn's Revenge
Challenge Map Pack
Arkham City Skins Pack
Batman: Arkham City - Game of the Year Edition packages new gameplay content, seven maps, three playable characters, and 12 skins beyond the original retail release:
Maps: Wayne Manor, Main Hall, Freight Train, Black Mask, The Joker's Carnival, Iceberg Long, and Batcave
Playable Characters: Catwoman, Robin and Nightwing
Skins: 1970s Batsuit, Year One Batman, The Dark Knight Returns, Earth One Batman, Batman Beyond Batman, Animated Batman, Sinestro Corps Batman, Long Halloween Catwoman, Animated Catwoman, Animated Robin, Red Robin and Animated Nightwing
Overview
Genre:
Works on:
Windows
Languages:
English, French, German, Italian, Spanish
Features:
Released:
September 07, 2012
Size:
17 GB
Company:
Rocksteady Studios
Warner Bros. Interactive Entertainment
Rating:
PEGI: 16 (Violence); ESRB: T (Alcohol Reference, Blood, Mild Language, Suggestive Themes, Use of Tobacco, Violence); USK: 16
SYSTEM REQUIREMENTS
Operating system:
Windows XP, Vista, 7
Processor:
Intel Core 2 Duo 2.4 GHz or AMD Athlon X2 4800+
Additional information:
Steam DRM